MIECHV Demographics & Service Report
PURPOSE OF THIS REPORT:
This report provides data on services and aggregate participant data (i.e. demographics) for Iowa MIECHV home visitation. The tables in this report were determined by reporting requirements of the MIECHV funder, Healthy Resource and Services Administration (HRSA).
WHAT THIS REPORT REPRESENTS
Data from Primary Caregiver and Target Child profiles, Quarterly Report – Primary Caregiver, and Enrollment & Annual Reports for the Primary Caregiver and Target Child will be reflected in this report. Forms completed in the current fiscal year will be reviewed for responses. Where there is not yet data for the current fiscal year, data from the previous fiscal year will be used. If any forms are missing from both the current and previous fiscal year, the data taken from these forms will be considered "Unknown/Did not report".
USING FILTERS
Use the following filters to determine the data to review:
Reporting Year, Reporting Period, Grantee Name, Organization Name, and County. Grantee Name, Organization Name, and County parameters are multi-select; reports will show all data for all selected choices.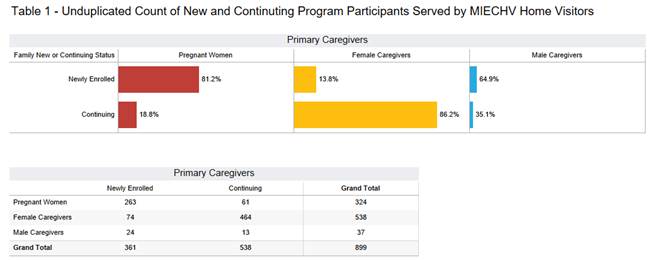 REVIEWING DATA
Each tab shows data in two ways, a bar graph and a table. The bar graph is intended to provide a quick and easy visualization of the data.
To determine who is counted in a bar, it is necessary to access the underlying data. Instructions on how to access underlying data can be found in the "How To" report guide, http://daiseyiowa.daiseysolutions.org/articles/fssd-accessing-underlying-client-level-data/.