PURPOSE OF THIS REPORT:
This report provides data on how Iowa MIECHV programs perform using the benchmarks established by the Health Resource and Services Administration (HRSA), the funder for the MIECHV program. Each dashboard provides a visual that lists the benchmark construct, who is considered for that benchmark, and a performance bar.
WHAT THIS REPORT REPRESENTS
All forms and assessments completed in DAISEY will be reflected in this report. Please refer to the DAISEY Iowa website for guidance on each measure, http://daiseyiowa.daiseysolutions.org/find- answers/.
USING FILTERS
Use the following filters to determine the data to review:
Reporting year (Fiscal Year), Grantee Name, Organization Name, and County.

ANNUAL REPORT DATA SOURCE- IMPORTANT NOTE
Please note that all benchmark constructs that utilize Primary Caregiver or Target Child Annual Reports will show a high proportion of "does not meet measure" until all annual reports are completed for that year (by Oct. 15 of the following fiscal year). This includes the following constructs: 2 (breastfeeding), 4 (well-child visit), 5 (postpartum care), 7 (safe sleep), 8 (child injury), 11 (early language and literacy), 15 (primary caregiver education), 16 (continuity of insurance coverage), 18 (completed developmental referrals).
REVIEWING DATA
To determine the clients included in a bar, click on a section of the bar and the list will reflect Primary Caregivers and Children included in that count. Click a section of the bar to determine those included in the count; click the bar a second time to remove the filter to reset the list to include all clients.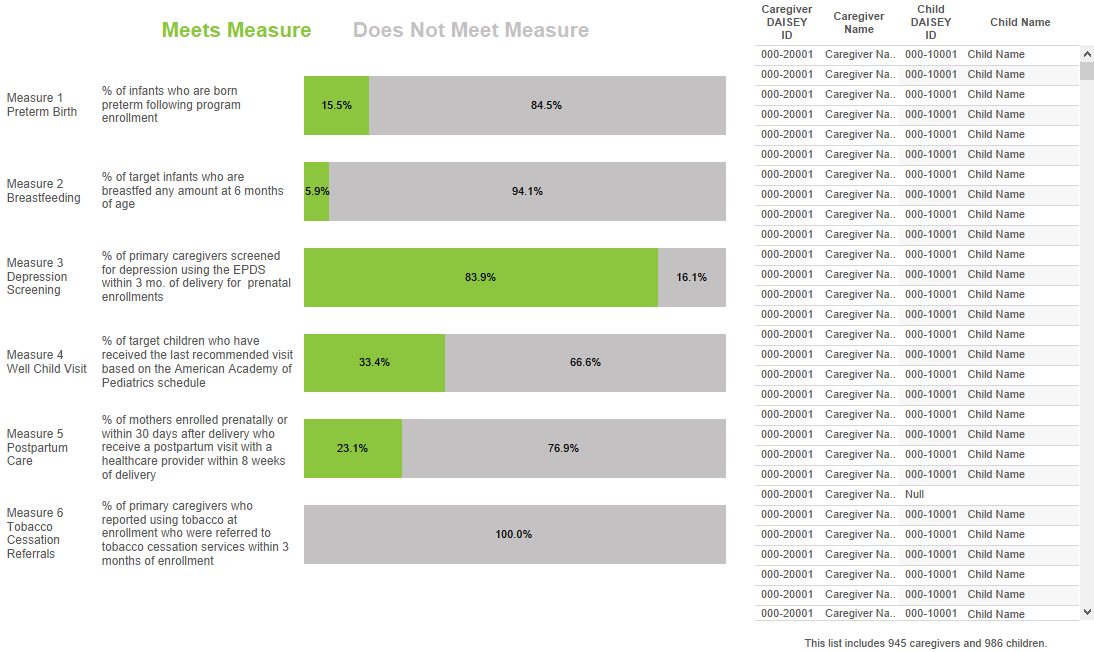 In this report, the green section of the bars represent clients who meet numerator criteria for the measure. The gray section of the bar represents clients that are counted in the denominator but do not meet the requirements of the numerator. To determine the number of caregivers/children in each bar, simply hover over that bar: